2012
Talk

0
2,700pages on
this wiki
On the first trimester of 2012, Gaga took a break from touring and promotional performances. During that time, she planned and launched of the Born This Way Foundation and rehearsed for The Born This Way Ball Tour. The tour began on April 27 of 2012 in South Korea.
January
Break, few apparences. During her interview with The Insider, she spoke about a large variety of topics, including Beyoncé pregancy, her fondness for cooking, her ambitions for the year ahead, and the future prospect of motherhood ("Someday. A long, long day from now").
February
Lady Gaga's father opened his restaurant Joanne Trattoria on February first. On February 4, Lady Gaga attended the Young Women's Conference. She also went to the premiere of "Decoding Deepak" (a film by Gotham Chopra) on February 10. On February 29, Lady Gaga went to Harvard Univerity to launch the Born This Way Foundation with her mother and Deepak Choprah among others.
March
In March, Gaga was spotted eating at various restaurants in Chicago. On March 28, Lady Gaga spent her birthday in West Hollywood.
April
Starts of the Born This Way Ball. Korea.
May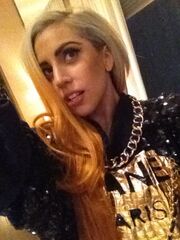 For the Asia leg of
the Born This Way Ball
, Gaga was first seen with a light blond wig and alternate between blond with locks of rainbow color mixed with experiments on ginger hair. On May 15, Gaga wrote on Twitter that she was officially a "Fox Blonde" after a few wigs and toners. On tour, they replaced a couple of outfits and used different wigs for Gaga from the one used in South Korea.
From May 10 to 14, Terry Richardson released photographs of Gaga and her staff from various moment of the day.
June
In the month of June, Gaga debuted the Oceanian leg of the The Born This Way Ball.
September
Edit