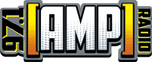 97.1 AMP Radio (KAMP FM) is a radio station broadcast in Los Angeles, CA, features largely current Top 40 (CHR).
Interview
Edit
Performance
Edit
Set list:
Lady Gaga did an interview on "Live with Carson Daly".
Transcription of the interview is missing (please help)

Important information revealed during the interview:
Lady Gaga will perform an hour of brand new music at iTunes Festival on September 1st
Terry Richardson filmed Lady Gaga's surgery for the documentary
ArtRave will take place in NYC
Fans will be able to upload, share, and create their own music on the ARTPOP app
There will be a livestream for iTunes Festival
Ad blocker interference detected!
Wikia is a free-to-use site that makes money from advertising. We have a modified experience for viewers using ad blockers

Wikia is not accessible if you've made further modifications. Remove the custom ad blocker rule(s) and the page will load as expected.