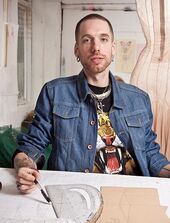 Alex Noble is a designer that created multiple outfits worn by Lady Gaga. One of these being the Sacred Heart Chimera, which is a flesh body suit with a Swarovski diamond heart on the chest, hairy crotch and chest areas, with feathered shoulders and a long tonal hair cape and golden hood.
Spring/Summer 2011: "Soft Death" RTW Collection
Edit
References
Edit
Ad blocker interference detected!
Wikia is a free-to-use site that makes money from advertising. We have a modified experience for viewers using ad blockers

Wikia is not accessible if you've made further modifications. Remove the custom ad blocker rule(s) and the page will load as expected.