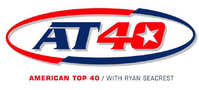 American Top 40 (commonly abbreviated to AT40) is an internationally syndicated, independent song countdown radio program created by Casey Kasem, Don Bustany, Tom Rounds and Ron Jacobs. The program is hosted by Ryan Seacrest. AT40 is now distributed by Premiere Radio Networks in the United States, Canada, Australia, the Philippines, Singapore, China, India, the United Kingdom, Malaysia and several other territories worldwide. It can also be heard on both the IHeartRadio application and the AT40 Mobile application on mobile smartphones and tablets. In its early years, the AT40 used the Billboard charts to compile the countdown, touting it as "the only source". The program subsequently switched to being based on Radio and Records airplay data upon its late 1990s return. Currently the AT40 is based on data from Mediabase, which is also published in the Tuesday Edition of USA Today.
Links
Ad blocker interference detected!
Wikia is a free-to-use site that makes money from advertising. We have a modified experience for viewers using ad blockers

Wikia is not accessible if you've made further modifications. Remove the custom ad blocker rule(s) and the page will load as expected.