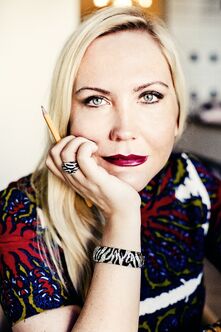 Anna-Karin Karlsson is a Swedish designer was thrown into the highest end of eyewear fashion at 19 when she started to work in the oldest and one of the most renowned opticians in London. The tradition of bespoke services in and around Saville Row extended into the Old Bond Street practise where Karlsson learnt the next to extinct trade of creating made to measure spectacle frames. She developed a deep understanding of the artisanal work and its' panache and soon she dispensed and designed eyewear for Sultans, Princesses, Kings, Dukes and mere Fashionistas.
Sunglasses
Edit
Ad blocker interference detected!
Wikia is a free-to-use site that makes money from advertising. We have a modified experience for viewers using ad blockers

Wikia is not accessible if you've made further modifications. Remove the custom ad blocker rule(s) and the page will load as expected.