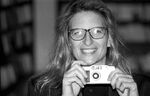 Anna-Lou "Annie" Leibovitz (born October 2, 1949) is an American portrait photographer. In 2014, Annie Leibovitz will release a self-titled SUMO-sized book published by Taschen. It includes photographs of Gaga taken in 2011 for Vanity Fair.
Hansel and Gretel portfolio (inspired by Richard Jones's production of the 1893 Engelbert Humperdinck opera, opening in December, 2009 at the Metropolitan Opera).
Link
Ad blocker interference detected!
Wikia is a free-to-use site that makes money from advertising. We have a modified experience for viewers using ad blockers

Wikia is not accessible if you've made further modifications. Remove the custom ad blocker rule(s) and the page will load as expected.