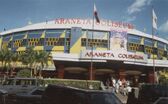 The Smart Araneta Coliseum (before known as Araneta Coliseum) is an arena in Quezon City, Philippines.
Lady Gaga performed here as apart of The Fame Ball Tour.
This was the first arena Gaga peformed at.
Gaga returned to using her denim outfit instead of the red leather outfit, and Gaga wore a new white tutu during "Just Dance" and "Eh, Eh (Nothing Else I Can Say)".
She had the same hair as the previous concert at Olympic Hal.
Set list:
"LoveGame"
"The Fame"
Band Jam (Punk Rock Rave)
"Poker Face" (Acoustic)
Ad blocker interference detected!
Wikia is a free-to-use site that makes money from advertising. We have a modified experience for viewers using ad blockers

Wikia is not accessible if you've made further modifications. Remove the custom ad blocker rule(s) and the page will load as expected.