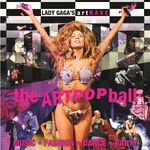 artRAVE: The ARTPOP Ball is the fourth concert tour by Lady Gaga, in support of her fourth album ARTPOP (2013). It started in May 2014.
While releasing her fourth studio album ARTPOP, Gaga held a private event in New York known as artRave, where she performed songs from the album and showcased art pieces. Later she took the concept of artRave and created 'artRave: The ARTPOP Ball Tour'.
The first dates of the tour were announced via Gaga's official Facebook page on December 3, 2013. After abruptly cancelling the North American leg of her previous Born This Way Ball tour due to a major hip injury, the tour is scheduled to begin with its first leg in the United States on May 4, 2014 in Fort Lauderdale, Florida. The trek will see her visiting several cities where she canceled tour dates earlier this year in order to undergo hip surgery as well as playing new cities.
Poster
The promo poster was revealed on December 3, 2013. The main photograph is from a performance of "ARTPOP" at the iTunes Festival on September 1, 2013 by Dave Hogan. Background photographs include various moments of The Born This Way Ball shot by Terry Richardson and the revamped Monster Ball shot by Josh Olins.