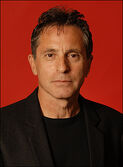 Arthur Fogel is the CEO of the Global Touring division of Live Nation Entertainment and the Chairman of its Global Music group. The organization sells almost 50 million tickets to more than 20,000 events every year, and his team has managed four of the top five highest-grossing tours in history, including those by U2, Madonna, Lady Gaga, and The Police.
Work with Lady Gaga
Edit
The Monster Ball Tour (Show Director, 2009-2011)
Who the F**K is Arthur Fogel? (A Documentary Film, 2014)
Lady Gaga was featured as one of Arthur's clients on his documentary movie "Who the F**K is Arthur Fogel?". She recorded a short interview in which she talks about how they met and how he has changed her. Other influental promoters and friends of Arthur appear in the movie, talking about Gaga and praising how she has become so big in such a short period of time.