Barneys New York is an American chain of luxury department stores headquartered in New York City.
Gaga's Workshop
Edit
Background
Edit
The Madison Avenue Windows
Edit
Lady Gaga's vision for the Madison windows was to create individual, magical holiday environments inspired by music, art and fashion. Directed by Nicola Formichetti in collaboration with Barneys Creative Director, Dennis Freedman, the windows have been divided into fourthemes: 'Gaga Constellation,' 'Gaga Machine,' 'Gaga's Boudoir,' and 'Gaga's Crystal Cave' each with their own unique reference to Lady Gaga.
"For my first ever window designs, it's an honor to be collaborating with the prestigious Barneys' brand and its creative history," said Nicola Formichetti.
Gaga's Boudoir 
Edit
Working with renowned hairstylist and Gaga collaborator, Bob Recine, the window is a surrealist take on Lady Gaga's own personal boudoir. Constructed entirely out of hair, the room is filled with references of hair styles and fashions from past Gaga moments.
Gaga's Crystal Cave
Edit
Turning the space into a mysterious ice world, the window is made up of light installations and a mermaid sculpture reminiscent of Gaga.
Gaga Machine 
Edit
The theme of this window plays with the idea of Lady Gaga physically morphing into a machine. In this case the machine being a motorcycle in the shape of Lady Gaga's body.
Gaga Constellation
Edit
Working with Q4, a NYC-based experiential digital agency, the window will feature a new collaborative film by director Tim Richardson and creative director, Nicola Formichetti. The interactive short film is sponsored by a White Label Product with post production by The Mill, screen technology by Prysm, and interactive experience design by Moving Image & Content and The Science Project.
Edibles & Treats
Edit
Accessories
Edit
Gaga attended the opening of her workshop and cut the ribbon.
Photography: David Swanson, Jamie McCarthy and Neilson Barnard.
Sunglasses by Frame France, dress by Karl Lagerfeld for Chanel, shoes by Noritaka Tatehana.
Electric Holiday
Edit
"Electric Holiday" is a special holiday project with the Walt Disney Company and Barneys New York starring Minnie Mouse on a fun, fabulous fashion adventure in Paris. Barneys New York will showcase the three-minute video in its entirety as part of its extraordinary 2012 holiday window display. The film premiered on November 14, 2012.

3-minute video maintains Minnie in her classic self, aside from the brief dreamlike runway sequence. Minnie Mouse embarks on a fantastical fashion adventure in Paris, where she walks the runway in Lanvin and rubs elbows with fashion-world figures like Lady Gaga, Linda Evangelista, Daphne Guinness, Naomi Campbell and many more.




Gaga wearing the same dress by Marc Jacobs used on her September 2012 cover of Vogue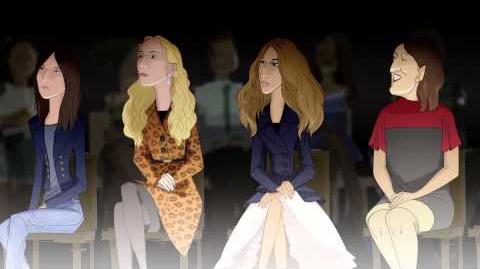 References
Edit