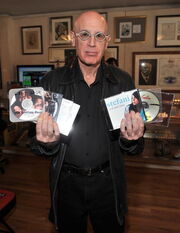 Bob Leone
was the National Projects Director (1988 - 2006) of the renowned and celebrated Songwriters Hall of Fame (SHOF) & its parent organization, The National Academy of Popular Music (NAPM). Prior to that, Leone was the National Projects Director for the Songwriters Guild of America (1981 - 1988). He chose
Lady Gaga
to be one of eight performers in the March 2006 SHOF New Writers Showcase & also as one of nine perfomers in the October 2006 OSIAA Italian American Artists Showcase. Both showcases were produced & hosted by Leone at the
Cutting Room
. Leone produced & hosted a total of 59 New Writer Showcases for SHOF in his 18 years with the organization. In 2006, he became GaGa's first personal manager. During that time, GaGa signed both her first production deal (Rob Fusari) & her first major label deal (L.A. Reid at Island/Def Jam Records). In October 2010, he put up for auction six unreleased demos that were gifts from GaGa who he met at one of his SHOF Open Mics when she was only 13. GaGa bought the demos for an undisclosed amount.
In June 2015, in her acceptance speech at the Songwriters Hall of Fame for the Icon Award, GaGa expressed her heartfelt appreciation of Leone for the role he played in her early career.
Reference
Edit
Ad blocker interference detected!
Wikia is a free-to-use site that makes money from advertising. We have a modified experience for viewers using ad blockers

Wikia is not accessible if you've made further modifications. Remove the custom ad blocker rule(s) and the page will load as expected.