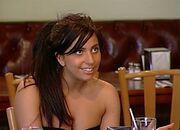 Boiling Point was a show on MTV back in 2005 that put random people in stressful situations to see if they could last a set amount of time, depending on the situation, without getting mad. Completion of this task earned the player $100. In Season 3, episode 22, Stefani Germanotta, Aka Lady Gaga, became one of the show's contestants. The "BP" was set for 14 minutes, but Stefani lasted only 12 minutes and 36 seconds.
Ad blocker interference detected!
Wikia is a free-to-use site that makes money from advertising. We have a modified experience for viewers using ad blockers

Wikia is not accessible if you've made further modifications. Remove the custom ad blocker rule(s) and the page will load as expected.