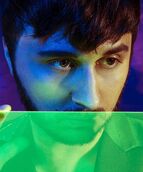 Brad Walsh is an American photographer, jewelry designer, pop singer and music producer from NYC, best known for his dance remixes of pop artists including Britney Spears, Adam Lambert as well as his own albums. He is in a long term relationship with fashion designer Christian Siriano.
Ad blocker interference detected!
Wikia is a free-to-use site that makes money from advertising. We have a modified experience for viewers using ad blockers

Wikia is not accessible if you've made further modifications. Remove the custom ad blocker rule(s) and the page will load as expected.