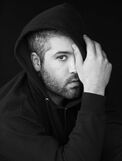 Brandon Maxwell is a stylist and fashion designer who founded his ready-to wear label in 2015 in NYC. He worked as stylist assistant to Nicola Formichetti where he met Lady Gaga in 2010. He is currently the Fashion Director at the Haus of Gaga since 2012. He went to study photography at St. Edward's University in Austin, TX., and began assisting stylist Deborah Afshani in 2009, followed by Edward Enninful.
Photoshoots
Edit
Stylist assistant to Nicola Formichetti
Stylist
Music videos
Edit
Stylist assistant to Nicola Formichetti
Stylist
Custom designs
Edit
Commercials
Edit
Apple Music
Edit
Lady Gaga wears an outfit by Nicola Formichetti for Diesel, boots by Sol Sana and a custom hat by Harvy Santos. Make up by Sarah Tanno using Marc Jacobs.
Music: "A-Yo"
Directed by: Brandon Maxwell and Jessy Price
Location: Øutpost Studio, New York City
Style: Nicola Formichetti
Make up: Sarah Nicole Tanno
Hair: Frederic Aspiras
Director Photography: Taylor Scott Mason
Assistant Camera: Nick Korompilas
Production: Lauren Pistoia at The Collective Shift
Set: Jose D. Cota at Velem, Milk, Pier 59, Cooper Vasquez at The Magnet Agency
Spring/Summer 2016 RTW Collection
Edit
Fall 2016 RTW Collection
Edit
Spring/Summer 2017 RTW Collection
Edit
Ad blocker interference detected!
Wikia is a free-to-use site that makes money from advertising. We have a modified experience for viewers using ad blockers

Wikia is not accessible if you've made further modifications. Remove the custom ad blocker rule(s) and the page will load as expected.