"Brooklyn Nights" is a song written by Lady Gaga. She revealed the song title on September 20, 2013 via Twitter in anticipation for her then-upcoming album, ARTPOP, but the song was not included on the final track list. Gaga later confirmed the song would be available through the ARTPOP application during a Twitter Q & A.
It is believed that the song was competing with "Mary Jane Holland" for track number twelve on ARTPOP.
Unofficial Release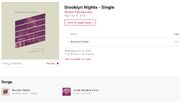 Though never receiving an official release, the song was temporarily made available for download on iTunes, as well as streaming on Apple Music, Google Play Music, and Spotify on April 15, 2018. The posting of the track was taken down 3 days later as it was an illegally licensed post credited under the copyright name, '℗ 2018 Stefani Germanota'. The song managed to reach the Top 40 on the US iTunes Pop Songs.
Charlotte Nights
When she was in Charlotte, North Carolina on September 18, 2010 during The Monster Ball Tour,  Gaga talked about having written a new song and referenced it as "Charlotte Nights". Before she played "Yoü and I". At the show, she said "I did write another song today while I was here in North Carolina," which she called "An impressive and interesting place" because of an "adult shop" she visited where "the pornography was staggering... Congratulations on your tripple-X stores!" She later said she got really inspired to write a "hit song". It is unknown if "Charlotte Nights" is indeed "Brooklyn Nights" as there is no reference to "adult shop" in the lyrics.
Performances
Lyrics
I always thought it was you
You always thought it was me
We always thought we were it
Seemed like a real perfect fit
Those Brooklyn nights set us free

I always thought even though
We were so young, we could grow
Up in the end it'd be us
We'd take the F or the bus
Where Brooklyn nights set us free

It's not that I don't wanna love you (wanna love you)
It's not that I'm really over it, you know (you know)
It's just that I can't watch us bleed to death
When we used to be Brooklyn nights happy

I miss our cheap chandelier
'Member when dad hung it there?
And we would watch Rocky IV
The one where the Russian scored
I loved Brigitte Nielsen's hair

I'd call you my champion
Thought we had already won
And cracked open our last beer
Falling asleep in our tears
Those Brooklyn nights set us free

It's not that I don't wanna love you (wanna love you)
It's not that I'm really over it, you know (you know)
It's just that I can't watch us bleed to death
When we used to be Brooklyn nights happy

I found an old pair of
Keys in my purse that opened
The lockup we shared
How did they get there, jerk?
I wanna see you there
I wanna make it work

I didn't brush my hair
And my lashes are falling
Off of seven years
Of our bad luck dating
I want one last night there
A Brooklyn night affair (a Brooklyn night affair)

It's not that I don't wanna love you (wanna love you)
It's not that I'm really over it, you know (you know)
It's just that I can't watch us bleed to death
When we used to be Brooklyn nights happy

It's not that I don't wanna love you
'Cause I really tried and I
Just wanna hang with the old you
For just one Brooklyn night adieu

Have a drink with your former self
We both won't act like someone else
Maybe then we'd both tell the truth
For just one Brooklyn night adieu
Credits
Writers and producers
Lady Gaga, DJ White Shadow, Nick Monson and Dino Zisis.
Published by

Stefani Germanotta P/K/A Lady Gaga (BMI) Sony/ATV Songs, LLC/ House of Gaga Publishing, LLC / GloJoe Music Inc. (BMI)

Maxwell and Carter Publishing, LLC (ASCAP), administered by Universal Music Publishing Group and Maxwell and Carter Publishing, LLC (BMI) administered by Universal Music Publishing Group

References