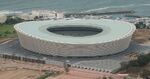 The Cape Town Stadium (Afrikaans: Kaapstad-stadion; Xhosa: Inkundla yezemidlalo yaseKapa) in Cape Town, South Africa is a newly built stadium that was used for the 2010 FIFA World Cup. The stadium is located in Green Point, between Signal Hill and the Atlantic Ocean, close to the Cape Town city centre and to the Victoria & Alfred Waterfront, a popular tourist and shopping venue. The stadium has a capacity of 64,100. The stadium is connected to the waterfront by a new road connection, Granger Bay Boulevard, and is surrounded by a 60 hectare urban park.
Part of The Born This Way Ball Tour.
Additional notes:
There was no Monster Pit at this show.
Set list
TBA
Ad blocker interference detected!
Wikia is a free-to-use site that makes money from advertising. We have a modified experience for viewers using ad blockers

Wikia is not accessible if you've made further modifications. Remove the custom ad blocker rule(s) and the page will load as expected.