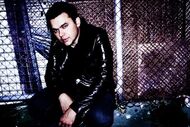 Chew Fu is a New York based electronic record producer, remixer and DJ, born in the Netherlands. Instead of using the term remix, Chew Fu coined the term "refix" because he says that his "remixes are like a completely new productions." When DJ-ing Chew Fu only plays his own original productions and refixes. Chew Fu well known for his remixes of Lady Gaga's singles after "LoveGame".
Work with Lady Gaga
Remixes
Links
Ad blocker interference detected!
Wikia is a free-to-use site that makes money from advertising. We have a modified experience for viewers using ad blockers

Wikia is not accessible if you've made further modifications. Remove the custom ad blocker rule(s) and the page will load as expected.