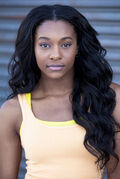 China Taylor (born China Debonaire Alexis Taylor) grew up in Altamonte Springs, Florida. She was 18 when the artRAVE: The ARTPOP Ball Tour began.
Her dance training is primarily Ballet and Jazz.
She is the great-granddaughter of Golden Gate Quartet's second tenor, Henry Owens.
She starting dancing at Duvall Dance Academy in Orlando at the age of nine.
She attended Lake Brantley High School.
She has also danced in Music videos for Britney Spears, Karmen, Zendaya, Ace Primo, Brooklyn, a few episodes of Glee and The X Factor as well as the season seven Waterloo episode of Mad Men.
China Taylor has also gone on Tour with Zendaya, Trey Songz and Janet Jackson.
China Taylor was 17 years old when she booked her first World Tour (The ARTPOP Ball) with Lady Gaga.   
She is also a member of Willdabeast Adams immaBeast Dance Crew Company.
Ad blocker interference detected!
Wikia is a free-to-use site that makes money from advertising. We have a modified experience for viewers using ad blockers

Wikia is not accessible if you've made further modifications. Remove the custom ad blocker rule(s) and the page will load as expected.