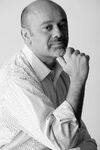 Christian Louboutin (born 7 January 1963) is a French footwear designer whose footwear has incorporated shiny, red-lacquered soles that have become his signature. Lady Gaga wore many of his shoes since 2008.
115mm heels seen in black.
C'est Moi ankle bootsEdit
120mm heels seen in beige [1] and custom paint [2].
Robot 120 ankle bootsEdit
Mini Bout pumpsEdit
120mm heels seen in beige clair.
Lola pumpsEdit
100mm heels seen in blue.
Hyper privé peep-toe pumpsEdit
Fluorescent yellow
Black
Scarpe platform slingbacksEdit
link title
Décolleté pumpsEdit
Lady Page pumpsEdit
Supra Fifre high bootsEdit
Custom Supra Fifre in silver
Big Lips PumpsEdit
120mm heels seen in ...
Clou Noeud spike sandalsEdit
Daffodile platform pumpsEdit
Lady Daf platform Mary Jane pumpsEdit
160mm heels seen in beige from Spring/Summer 2011
Custom thigh high boots
Edit
Equestria heel-plate bootiesEdit
Daf Booty bootiesEdit
160mm Ankle white
References
Edit