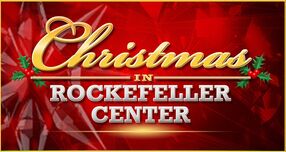 Christmas in Rockefeller Center is an annual show held in Rockefeller Centre in mid-town Manhattan, New York City and broadcast live on NBC. A large Christmas tree is placed in early to mid November and lit in late November or early December. In recent years, the lighting has been broadcast live nationwide on NBC's Christmas in Rockefeller Centre show and scheduled for the Wednesday after Thanksgiving. The tree, usually a Norway Spruce 69 to 100 feet (21 to 30 m) tall, has been put up every year since 1933.
Lady Gaga and Tony Bennett performed at the 81st annual tree lighting on December 1, 2014. Christmas classic "Winter Wonderland" and "It Don't Mean a Thing (If It Ain't Got That Swing" performances broadcast on December 3, 2014.
Set list
Links
Ad blocker interference detected!
Wikia is a free-to-use site that makes money from advertising. We have a modified experience for viewers using ad blockers

Wikia is not accessible if you've made further modifications. Remove the custom ad blocker rule(s) and the page will load as expected.