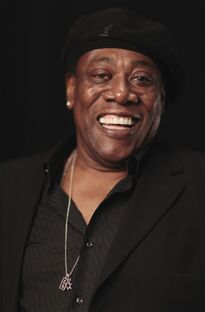 Clarence Anicholas Clemons, Jr. (January 11, 1942 - June 18, 2011), known by fans as The Big Man, was an American musician and actor. Since 1972 he was a prominent member of Bruce Springsteen's E Street Band, playing the saxophone.
Work with Lady Gaga
Clemons played the saxophone on the following songs:
Clemons performed with Gaga on American Idol on May 25, 2011. He was also featured in the music video for "The Edge of Glory".
Tribute
Lady Gaga was honored with the Big Man of the Year award on October 20, 2011 for her work in music education at the Little Kids Rock benefit in New York.
After receiving accolades from the wife of Clemmons, Gaga gave her acceptance speech.
My first experience with music was my father playing a vinyl of the E Street Band. I knew every time the song played that my grandpa was looking down and thanking me [for]… the gift I had given to my father by having Clarence on that record. There is no edge when it comes to Clarence's glory.
Other
Links
Ad blocker interference detected!
Wikia is a free-to-use site that makes money from advertising. We have a modified experience for viewers using ad blockers

Wikia is not accessible if you've made further modifications. Remove the custom ad blocker rule(s) and the page will load as expected.