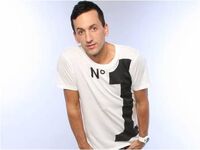 Clinton Sparks (born September 18, 1979) is a producer from Boston.
Working with Lady Gaga
Edit
In 2012, Clinton Sparks was contacted by one of his friends, DJ White Shadow to be involved in the recording of Born This Way. Sparks explained that they worked on music using iChat and e-mails. "They would give me feedback so I'd send him back more stuff and then him and Gaga would take it from there, add a little magic to it, and then we got the songs," explained Sparks in interview with Crave Online in 2012.
Productions with Lady Gaga
Edit
He worked with Lady Gaga on the following song(s):

Songs from Born This Way (2011):
Songs by Lady Gaga that he remixed:
Resources
Edit
Ad blocker interference detected!
Wikia is a free-to-use site that makes money from advertising. We have a modified experience for viewers using ad blockers

Wikia is not accessible if you've made further modifications. Remove the custom ad blocker rule(s) and the page will load as expected.