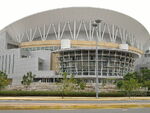 The José Miguel Agrelot Coliseum, officially named Coliseo de Puerto Rico José Miguel Agrelot, is the biggest indoor arena in Puerto Rico dedicated to entertainment. It is located at the Golden Mile of San Juan, the island capital.
Part of The Born This Way Ball Tour.
Additional notes:
There was no Monster Pit at this show.
Set list

Act I
Space (intro)
Operation: Kill the Bitch (interlude)
Birth (interlude)
Interlude
Mother G.O.A.T. Manifesto I (interlude)
Interlude
"Judas"
Act II
Act III
Mother G.O.A.T. Manifesto II (interlude)
"Bad Kids"
"Hair" (acoustic)
"Yoü and I" (acoustic)
Act IV
Interlude
"Americano" / "Poker Face" (medley)
Act V
"Scheiße"
"The Edge of Glory" (acoustic + album)