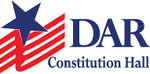 DAR Constitution Hall is a concert hall in Washington, D.C. It was built in 1929 by the Daughters of the American Revolution to house its annual convention when membership delegations outgrew Memorial Continental Hall. Later, the two buildings were connected by a third structure housing the DAR Museum, administrative offices, and genealogical library. DAR Constitution Hall is still owned and operated by the National Society of Daughters of the American Revolution. It was designated a National Historic Landmark in 1985.
There were no changes fashion wise between this Fame Ball concert and the previous concert at Landmark Theater. This was also the very last Fame Ball concert, finishing The Fame Ball Tour.
Set list
Ad blocker interference detected!
Wikia is a free-to-use site that makes money from advertising. We have a modified experience for viewers using ad blockers

Wikia is not accessible if you've made further modifications. Remove the custom ad blocker rule(s) and the page will load as expected.