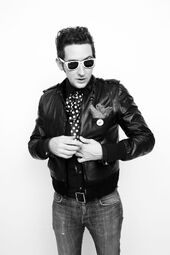 DJ VH1 (a.k.a. Brendan Jay Sullivan) is a writer and producer from Brooklyn, best known as DJ/collaborator for Lady Gaga. He made a cameo in the music video for "Just Dance" in 2008. His special flavor has been described as "bringing rock n' roll to the dance floor" with his own collection of inventive remixes and floor fillers. In New York City, he is known as "the nicest guy in nightlife". His sly attitude and attention to classics inspired The Ting Tings to write their first single, "Great DJ". Gaga and Lady Starlight were Sullivan's go-go dancers for two years, before they began incorporating Gaga's music into their dance-rock show. He DJ'ed at the afterparty for The Killers when they had played at Madison Square Garden on April 28, 2007, an event referenced to, in the song, "Boys, Boys, Boys".
Related with Lady Gaga
Edit
Ad blocker interference detected!
Wikia is a free-to-use site that makes money from advertising. We have a modified experience for viewers using ad blockers

Wikia is not accessible if you've made further modifications. Remove the custom ad blocker rule(s) and the page will load as expected.