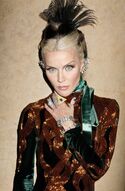 Daphne Diana Joan Susanna Guinness (born 9 November 1967) is an artist of both British and Irish nationality. She is an heir by direct descent of Arthur Guinness, the 18th-century inventor of the beer that still bears his name.
Daphne Guinness Collection
Edit
Azzedine Alaïa, jacket — No. 8 (£3,000)
Adrienne Landau, coat, 2000s — No. 23 (£1,250)
Alexander McQueen, shoes, Fall/Winter 2011 RTW collection — No. 24 (£7,500)
Undercover by Jun Takahashi, dress, Spring/Summer 2007 "Purple" collection — No. 31 (£238)
Unknown, manufactured by Gruppo GFT — No. 45 (£2,375)
Dior, coat, Fall 2008 — No. 83 (£5,250)
Christian Lacroix, coat, Fall 2005 Haute Couture collection — No. 96 (£11,875)
Alexander McQueen, dress, Fall/Winter 2008 RTW "The Girl Who Lived In The Tree" collection — No. 99 (£85,250)
Alexander McQueen, custom dress — No. 4175 (£79,250)
Alexander McQueen, brown leather jerkin, Spring 2003 "Irere"collection — ($4,683)
Dolce & Gabbana, faux-leopard sequinned coat, Spring 2001 — (???)
Sold by Christie's to the benefit of the Isabella Blow Foundation on June 27, 2012.
Reference
Edit
Ad blocker interference detected!
Wikia is a free-to-use site that makes money from advertising. We have a modified experience for viewers using ad blockers

Wikia is not accessible if you've made further modifications. Remove the custom ad blocker rule(s) and the page will load as expected.