Ad blocker interference detected!
Wikia is a free-to-use site that makes money from advertising. We have a modified experience for viewers using ad blockers

Wikia is not accessible if you've made further modifications. Remove the custom ad blocker rule(s) and the page will load as expected.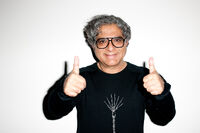 Deepak Chopra is an Indian American public speaker, and writer on Ayurveda, spirituality and mind-body medicine. Chopra began his career as an endocrinologist and later shifted his focus to alternative medicine. Chopra was a top assistant to Maharishi Mahesh Yogi before launching his own career in the late 1980s by publishing self-help books on New Age spirituality and alternative medicine.
In late April, after being named the 4th most influential person in the world of 2010 by TIME Magazine, Lady Gaga released a video stating who her most influential person is:

"The most influential person in my life is Deepak Chopra. He means so much to so many people all over the world. All of the various books that he has written and his message is a true inspiration. I think about Deepak when it comes to my own work as a musician. I want so much for it go beyond the music for my fans. Inspiration as ambition. How the spiritual laws can affect their lives. And in my own personal life, Deepak has been an amazing friend. He has always reminded me to work in a life of service to my fans, and to fufill my vision and my destiny." -Lady Gaga
In mid July, Deepak Chopra told his feelings about Lady Gaga in an interview with MTV Iggy:

"One of the most unexpected celebrities that I have recently met, because I have met them all, is Lady Gaga. She is all of 24 years of age, she has exquisite talent in both her performances and her singing, she writes lyrics that, to me, are reminiscent of The Beatles, and she has an extraordinarily mature mind. And she had existencial angst. She's troubled by both her own personal questions about existence and also the big social issues of our time. So she is a combination of wisdom, angst, rebellion, great talent, exquisite music and great performance." -Deepak Chopra