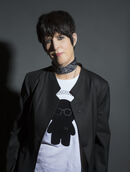 Diane Eve Warren (born September 7, 1956) is an American songwriter. Her songs have received eight Academy Award nominations, five Golden Globe nominations, including one win, and twelve Grammy Award nominations, including one win. She was inducted into the Songwriters Hall of Fame in 2001. Her success in the US has been paralleled in the UK, where she has been rated the third most successful female artist. Warren owns a publishing company, Realsongs, which gives her control over her compositions.
Work with Lady Gaga
Edit
Diane Warren co-wrote the song "Til It Happens to You" with Lady Gaga for the soundtrack of the original movie, The Hunting Ground in 2015.
As of now, in 2018 Diane Warren has said in an interview with MusicWeek that she has written another song with Gaga that will apparently be on the A Star Is Born soundtrack which has yet to come out.