The ARTPOP era as it name imply refer to the album cycle for ARTPOP. Although the album was released on November 11th, 2013, the era began on July 11, 2013, when Gaga announced the single and album release date. The era ended on November 24, 2014, when Gaga closed the final artRAVE in Paris.
Recap of 2011, 2012 and early 2013
2011 and 2012 are in the Born This Way era, but Gaga started hyping ARTPOP at that time, but the ARTPOP era had not officially began yet.
Gaga began recording ARTPOP in 2011  and even started dropping hints about the album in later 2011.
Throughout 2012, Gaga teased the album calling it her favorite album of her's. She revealed a lot of details about ARTPOP through chat rooms on LittleMonsters.com
Gaga revealed the album title on August 3rd, 2012.
The album was originally planned for an early 2013 release but was postponed when Gaga hurt her hip while performing on the Born This Way Ball Tour in February 2013. That also resulted in the cancellation of the remainder of the Born This Way Ball.
2013
July
Main article: July 2013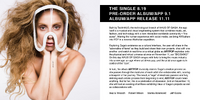 Gaga announced ARTPOP release dates on July 11th, 2013, which marked the beginning of the ARTPOP era.
Ad blocker interference detected!
Wikia is a free-to-use site that makes money from advertising. We have a modified experience for viewers using ad blockers

Wikia is not accessible if you've made further modifications. Remove the custom ad blocker rule(s) and the page will load as expected.