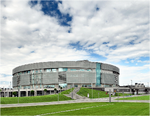 Hala Sopot-Gdańsk, Ergo Arena is a multi-use indoor arena that was opened in 2010. The boundary between two towns Gdansk and Sopot runs through the very middle of the hall. The arena has a capacity of 11,409 people for sports events and up to 15,000 with standing places (i.e. for concerts).
Additional notes:
Lady Gaga announced that Born This Way will include around 20 songs. She also said that it would be the "album of the decade", then added that the album was completely finished.
Set list:
Ad blocker interference detected!
Wikia is a free-to-use site that makes money from advertising. We have a modified experience for viewers using ad blockers

Wikia is not accessible if you've made further modifications. Remove the custom ad blocker rule(s) and the page will load as expected.