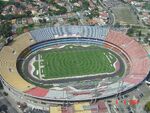 Estádio Cícero Pompeu de Toledo is a stadium in São Paulo, Brazil, home of São Paulo Futebol Clube and its formal name honors Cícero Pompeu de Toledo, who was São Paulo FC's chairman during most of the stadium construction, and died before its inauguration.
Part of The Born This Way Ball Tour.
Set list
TBA
References
Edit
Ad blocker interference detected!
Wikia is a free-to-use site that makes money from advertising. We have a modified experience for viewers using ad blockers

Wikia is not accessible if you've made further modifications. Remove the custom ad blocker rule(s) and the page will load as expected.