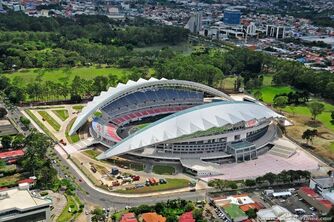 Estadio Nacional de Costa Rica
(Costa Rica National Stadium) is a multi-purpose stadium located in La Sabana, San José, Costa Rica. Completed in 2011, it will mainly be used for football matches. The stadium replaced the original National Stadium. The new arena is the most modern stadium in Central America and the Caribbean, with more technology and offices for 32 sports federations, two giant screens HD TV, one sports museum, running track and halls for other sports such as table tennis, fencing and chess.
Part of The Born This Way Ball Tour.
Aditional note(s):
Lady Gaga specifically requested for a plumbing stage to be built and used at this venue.
Although the show was held in a stadium, the big Monster Pit (stadium pit) was not used, however the small monster pit (arena pit) was used instead.
Lady Gaga did not walk through the runway during Highway Unicorn (Road To Love), instead she sang the song on the main stage as if there was no Monster Pit.
Lady Gaga performed an acoustic/stripped down version of Marry The Night, the same version as performed in Mexico City
Lady Gaga receives the named fern in her honor called "Gaga Germanotta"- Source
Set list
Ad blocker interference detected!
Wikia is a free-to-use site that makes money from advertising. We have a modified experience for viewers using ad blockers

Wikia is not accessible if you've made further modifications. Remove the custom ad blocker rule(s) and the page will load as expected.