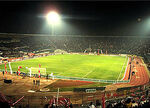 The Estadio Nacional Julio Martínez Prádanos is the national stadium of Chile, and is located in the Ñuñoa district of Santiago. It is the largest stadium in Chile with an official capacity of 46,000.
Part of The Born This Way Ball Tour.
Note:
Mother G.O.A.T's prism didn't lit up due to tecnical problems.
Set list
Space (Intro)
Operation: Kill the Bitch (Interlude)
Birth (Interlude)
Emerging (Interlude)
Mother G.O.A.T. Manifesto I (Interlude)
G.O.A.T Briefing (Interlude)
"Judas"
"Hair"
Mother G.O.A.T. Manifesto II (Interlude)
"Bad Kids"
Interlude
"Scheiße"
"The Edge of Glory" (Acoustic + Album)
Ad blocker interference detected!
Wikia is a free-to-use site that makes money from advertising. We have a modified experience for viewers using ad blockers

Wikia is not accessible if you've made further modifications. Remove the custom ad blocker rule(s) and the page will load as expected.