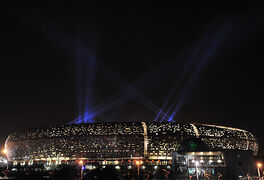 FNB Stadium, also known as Soccer City, is a stadium located in Nasrec, the Soweto area of Johannesburg, South Africa. It is located next to the South African Football Association headquarters (SAFA House) where both the FIFA offices and the Local Organising Committee for the 2010 FIFA World Cup were housed. Designed as the main association football stadium for the World Cup, the FNB Stadium became the largest stadium in Africa with a capacity of 94,736. The stadium is also known by its nickname "The Calabash" due to its resemblance to the African pot or gourd.
Part of The Born This Way Ball Tour.
Additional notes:
There was a Monster Pit at this show where Little Monsters camped out two nights before the date to get their front row spots.
Set list:
TBA
Ad blocker interference detected!
Wikia is a free-to-use site that makes money from advertising. We have a modified experience for viewers using ad blockers

Wikia is not accessible if you've made further modifications. Remove the custom ad blocker rule(s) and the page will load as expected.