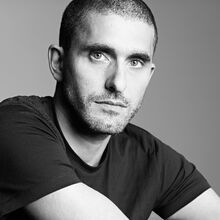 Felipe Oliveira Baptista (born in 1975 in Portugal) is a Portuguese designer graduated from Kingston University in 1997, after which he honed his trade working on the design teams at MaxMara, Christophe Lemaire and Cerruti for the next four years. Baptista was appointed as creative director of Lacoste in 2010, to generally positive reception.
In 2003, Baptista won the prestigious Hyères International Fashion and Photography Festival and Andam/LVMH fashion awards. The latter panel was headed by well-known stylist Carine Roitfeld. The awards gave Baptista the confidence and backing to launch his own apparel brand.
In 2005, he showed at Haute Couture Week in Paris for the first time, which marked the beginning of a relationship that would see the Fédération Française De La Couture invite him to Shanghai to exhibit his work two years later. Baptista debuted his accessories line and staged his first ready-to-wear show at Paris Fashion Week in 2009.
In addition to designing under his own name Baptista has taken part in a number of high profile collaborations, including 'AW77' with Nike, which would see the sportswear giant also commission a book; Baptista also collaborated with Uniqlo in 2006.
"Underdive" Fall 2012 Collection
Edit
Ad blocker interference detected!
Wikia is a free-to-use site that makes money from advertising. We have a modified experience for viewers using ad blockers

Wikia is not accessible if you've made further modifications. Remove the custom ad blocker rule(s) and the page will load as expected.