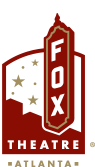 The Fox Theatre (often marketed as the Fabulous Fox) in Atlanta, Georgia is one of the grand movie palaces built in the United States in the 1920s.
This is part of the first version of the The Monster Ball Tour.
Additional notes:
The song "Fashion" was not performed.
On December 29th, a flower bouquet hit Gaga during "Poker Face".
Set list:
 1.  Jumping Film (Intro)
 3.  Just Dance
 4.  Puke Film (Desert)
 5.  LoveGame
 6.  Alejandro
 7.  Raven Film (Forest)
 8.  Monster
10. Teeth
11. Speechless
13. Tank Girl Film (Egypt)
14. The Fame
15. Money Honey
17. Antler Film (City)
18. Boys Boys Boys
19. Paper Gangsta
20. Poker Face
22. Paparazzi
23. Eh, Eh (Nothing Else I Can Say) (Encore)
24. Bad Romance (Encore)
25. Tattoo Film (Opera - Outro)
Ad blocker interference detected!
Wikia is a free-to-use site that makes money from advertising. We have a modified experience for viewers using ad blockers

Wikia is not accessible if you've made further modifications. Remove the custom ad blocker rule(s) and the page will load as expected.