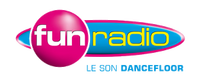 Fun Radio is a French network of FM radio stations created on 2 October 1985 and dedicated to R&B, dance music, electro music and house music, operating on 250 different frequencies across France.
Gaga during the interview said the phrase "Born this way"... this phrase could possibly have been hinting at her third album, Born This Way, but it is unsure whether that is true.
This performance was the first time Lady Gaga had performed "Eh, Eh (Nothing Else I Can Say)" live on a radio station. During that performance, she wore a maroon outfit, with puffed shoulder pads, and a bob hairdo.
Set list
Gaga filmed a commercial offering tickets to The Monster Ball Tour in Paris.
Gaga called into Fun Radio in France to give an interview. Gaga confirmed that there would be a song called "Gypsy" on her upcoming album, ARTPOP.
Ad blocker interference detected!
Wikia is a free-to-use site that makes money from advertising. We have a modified experience for viewers using ad blockers

Wikia is not accessible if you've made further modifications. Remove the custom ad blocker rule(s) and the page will load as expected.