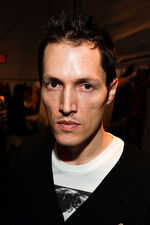 GK Reid is a fashion stylist and designer that created outfits, shoes and accessories worn by Lady Gaga. Among GK's creations for Gaga was a gown made out of Hello Kitty plush toys, shoes made out of lip glosses, and a diamond kitty necklace, which Gaga wore as a skirt. GK's creative concept with Indrani, to create giant kitty eyes for Gaga, inspired a new trend.
The photos by Markus Klinko & Indrani were used by Gaga for her collector's edition of The Fame album art, and for a campaign for Hello Kitty's 35th Anniversary. The shoot was also filmed for Bravo's "Double Exposure" docu-series. The Hello Kitty dress was later spoofed on Glee.
Fashion stylist GK Reid and photographers Markus Klinko & Indrani shoot Lady Gaga's homage to Hello Kitty.
Ad blocker interference detected!
Wikia is a free-to-use site that makes money from advertising. We have a modified experience for viewers using ad blockers

Wikia is not accessible if you've made further modifications. Remove the custom ad blocker rule(s) and the page will load as expected.