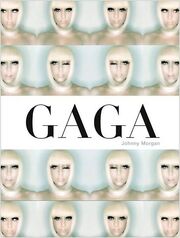 Gaga - 160 paged unauthorized biography by Johnny Morgan (Sterling Publishing, November 2010).
"A book that's as eye-catching, over-the-top, and fabulous as Lady Gaga herself! The Grammy Award-winning Lady Gaga has taken the world by storm, setting sales records and becoming a style icon. This lavish volume examines the Lady's history and phenomenal rise, her music and videos, and her unique look and chameleon-like nature. Chock-full of photos that capture Gaga from childhood through stardom, it also includes images of those who have influenced her style and an appraisal of her place in the pantheon of performance artists. Gaga is a must-have for the millions who love this very special performer and celebrity."
Highlights
Includes previously unpublished images from Gaga's youth
Special feature spreads highlight the Gaga Gods and Goddesses who have inspired her look and music
Plus memorabilia, and intimate and classic photographs of Lady Gaga
Introduction
Stef: School days and early plays
The Germ: Watching Britney and forming SGBand
Enter Lady: The emergence of Lady Gaga
Go Gaga: Clubs and Go go dancing on the Lower East side
Fame: LA, NKOB, Akon, Pussycat Dolls and making it with The Fame
Monster: The Monster Ball rolling round the world
Ad blocker interference detected!
Wikia is a free-to-use site that makes money from advertising. We have a modified experience for viewers using ad blockers

Wikia is not accessible if you've made further modifications. Remove the custom ad blocker rule(s) and the page will load as expected.