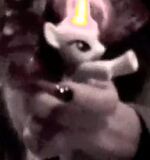 Gagacorn is a plastic toy unicorn with a horn that lights up. It was given to Lady Gaga by a Fan and was featured in Gagavision No. 44.
Gaga believes that unicorns are beautiful mythological creatures that she feels represent her beliefs in a way. Gaga also has a tattoo of a unicorn on her left outer thigh with a banner reading "Born This Way," a tribute to her album. Gagacorn is known to be the mascot of Gaga's third studio album, titled Born This Way.
In Gagavision No. 44, Gaga said:
"Whenever I get sad, I think of all the Little Monsters and go like this (she makes the unicorn's horn light up) and say 'Fight on, little pony, fight on."
Gagacorn keyrings and stickers were also sold as merchandise at the The Born This Way Ball, see this page for more details.
Images
Ad blocker interference detected!
Wikia is a free-to-use site that makes money from advertising. We have a modified experience for viewers using ad blockers

Wikia is not accessible if you've made further modifications. Remove the custom ad blocker rule(s) and the page will load as expected.