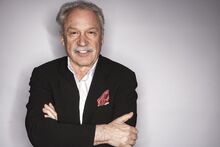 Giovanni Giorgio Moroder, born Hansjörg Moroder in Urtijëi (26 April 1940), is an Italian record producer, songwriter, performer and DJ. Moroder is frequently credited with pioneering synth disco and electronic dance music.
Work with Lady Gaga
Edit
In an interview for Popjustice published on January 26, 2015, Moroder talked to Peter Robinson and he said:
How about Lady Gaga?

I was supposed to be in the studio with her a week ago, but I got a cold. I'll see her when I'm back. I have about five or six tracks, just basic ideas. Drums, keyboard, bass. I'm going to be surprised, I think – I don't have a clue about the way she's recording. Will she play the piano? Will I?

So did she call you and say, "I want something that sounds like…"

No. I met her about two years ago. She loved me – the usual! (Laughs) And I did a remix for her last year – I did two versions and she took the more traditional of the two.

Are these sessions for her album, or yours?

This is for her new album – that's the intention. I was hoping that maybe I can convince her to have one of the songs for my album. If I could convince her, well that would be incredible.

From what I've seen of her she can be quite spontaneous – if the mood takes her to do something fun, she'll do it.

Maybe! Maybe. If I have a good track that could fit my album but not necessarily hers, that could be ideal.
He worked with Lady Gaga on the following song(s):
Songs by Lady Gaga that he remixed:
The remix premiered on Idolator on October 6, 2014.
Productions with Lady Gaga
Edit
He worked with Lady Gaga on the following song(s): 
Songs from Joanne (2016):
Ad blocker interference detected!
Wikia is a free-to-use site that makes money from advertising. We have a modified experience for viewers using ad blockers

Wikia is not accessible if you've made further modifications. Remove the custom ad blocker rule(s) and the page will load as expected.