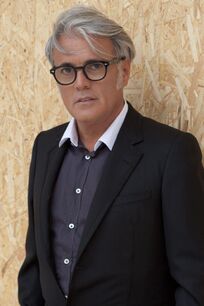 Giuseppe Zanotti
 (born on April 17, 1957 in San Mauro Pascoli, Emilia Romagna) is an Italian footwear, accessories and fashion designer known for his jeweled heels, sneakers, handbags, jewelry, and leather ready-to-wear. Through his owned company, Vicini S.p.A, he manufacturers his eponymous label, Giuseppe Zanotti, which is distributed in 75 countries worldwide through a network of directly operated boutiques, franchisees and retailers.
Ad blocker interference detected!
Wikia is a free-to-use site that makes money from advertising. We have a modified experience for viewers using ad blockers

Wikia is not accessible if you've made further modifications. Remove the custom ad blocker rule(s) and the page will load as expected.