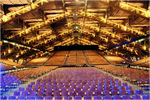 The Halle Tony Garnier is a concert hall in Lyon, France.The maximum seated capacity is approximatively 8,000 spectators. For large events, the maximum capacity including standing can reach 16,500 people - making it the third biggest venue in France after the Palais Omnisports de Paris-Bercy and the new coming Arena in Montpellier.
Set list:
Ad blocker interference detected!
Wikia is a free-to-use site that makes money from advertising. We have a modified experience for viewers using ad blockers

Wikia is not accessible if you've made further modifications. Remove the custom ad blocker rule(s) and the page will load as expected.