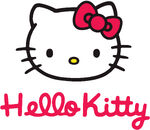 Hello Kitty (full name Kitty White) is a fictional character produced and brand by the Japanese company Sanrio, first designed by Yuko Shimizu.
During a show on November 17, 2010, Gaga vandalized a stuffed Hello Kitty doll given to her by a fan while performing "Paparazzi", and presented it to the crowd afterwards.
35th anniversary campaign
Photography by Markus Klinko and Indrani
Accessories
Dolls
These dolls were designed by Yuko Yamaguchi.
Flowers
Ad blocker interference detected!
Wikia is a free-to-use site that makes money from advertising. We have a modified experience for viewers using ad blockers

Wikia is not accessible if you've made further modifications. Remove the custom ad blocker rule(s) and the page will load as expected.