"Hey Girl" is a song written by Lady Gaga and Florence Welch, of Florence + the Machine, for Gaga's fifth studio album Joanne. She performed a small snippet of the song October 5, 2016 during her interview with 102.7 KIIS FM. The track is the only collaboration on the album.
Background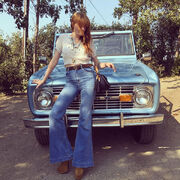 Rumors about collaboration started when Florence shared an Instagram picture of her standing in front of a baby blue Ford Bronco – the same custom car Gaga was photographed driving earlier the same week. They were also both spotted with Mark Ronson in California. During an interview with BBC1 Radio, Gaga spoke about the collaboration on the album, "There's a feature on the album that I think you will be very excited about. Me and Florence Welch did a duet together. I started to work on an idea for a song that I really wanted to do with a girl. You'll see why when you see what the song is about." She continued, "I just thought, 'Who do I want to sing with?' She's really to me if not the best, one of the greatest vocalists in the world. She's incredible." During and interview with Beats1, Zane Lowe has asked her about the making process of the song and she replied: "Love that record. [...] I remember when she [Florence] came in and I was like o.k. I want to go back and forth [...] and she was like "Why are we going back and forth [...] I should just sing the second verse in this" and I was like "No! [...] There's got to be a conversation. We got to talk to each other. I need to women having it out and the coming together""
Trivia
Hey Girl, I Like It Rough, Christmas Tree and Retro, Dance, Freak are the only unperformed songs by Lady Gaga (excluding the unreleased ones).
Lyrics
[Verse 1: Lady Gaga & Florence Welch]
Hey girl, can you hear me?
Are you holding out your heart?
Hey girl, do you feel me?
Sometimes I go too far
Hey girl, it ain't easy
I know it's pulling me apart
But darlin', don't you leave me
Baby, don't you leave me

[Chorus: Lady Gaga & Florence Welch]
Hey girl, hey girl
We can make it easy if we lift each other
Hey girl, hey girl
We don't need to keep on one-in' up another
Hey girl, hey girl
Hey girl, hey girl
If you lose your way
Just know that I got you
Just know that I got you

[Verse 2: Lady Gaga & Florence Welch]
Lady is it lonely?
I been callin' out your name
Tell me that you need me
'Cause I need you just the same
Everyday a heartache
I'm just tryin' to keep it sane
But I know you believe me
Baby don't you leave me

[Chorus: Lady Gaga & Florence Welch]
Hey girl, hey girl
We can make it easy if we lift each other
Hey girl, hey girl
We don't need to keep on one-in' up another
Hey girl, hey girl
Hey girl, hey girl
If you lose your way
Just know that I got you

[Bridge: Lady Gaga, Florence Welch & Both]
Help me hold my hair back
Walk me home 'cause I can't find a cab
And we dance down The Bowery
Held hands like we were 17 again
And then it's 4am
The sun is creepin' up again
Don't you leave me
Oh, darling don't you leave me

[Chorus: Lady Gaga & Florence Welch]
Hey girl, hey girl
We can make it easy if we lift each other
Hey girl, hey girl
We don't need to keep on one-in' up another
Hey girl, hey girl
Hey girl, hey girl
If you lose your way
Just know that I got you

[Outro: Lady Gaga]
Just know that
Just know that I got you
Just know that
Just know that
Just know that
Help me hold my hair back
Walk me home 'cause I can't find a cab
And we dance down The Bowery
Held hands like we were 17 again
Credits
Written by
Lady Gaga, Florence Welch and Mark Ronson
Produced by
Mark Ronson, Lady Gaga and BloodPop®
Recorded by
Joshua Blair and assisted by David "Squirrel" Covell at Shangri-La Studios, Malibu, CA
Jens Jungkurth, Joshua Blair and assisted by Michael Harris, Christopher Cerullo, Chris Claypool at Vox Recording Studios, Los Angeles, CA
Brett "123" Shaw at 123 Studios, London,
Mixed by
Tom Elmhirst and assisted by Joe Visciano, Brandon Bost at Electric Lady Studios, New York, NY
Mastered by
Tom Coyne & Randy Merrill at Sterling Sound, New York, NY
Track Participants
Lady Gaga — Piano
Homer Steinweiss — Drums
Nicholas Movshon — Bass
Thomas Brenneck — Guitar
Victor Axelrod — Synthesizer
Florence Welch — Vocalist
Jack Byrne — Guitar
Kelsey Lu — Cello
Tom Moth — Harp
BloodPop® — Rhythm Programming for GenPop Corp.
Published by

Stefani Germanotta P/K/A Lady Gaga (BMI) Sony/ATV Songs, LLC/ House of Gaga Publishing, LLC / GloJoe Music Inc. (BMI)

Imagem CV/Songs Of Zelig (BMI) (Songs Of Zelig administered worldwide by Imagem CV)
Universal Music Publishing
Florence Welch appears courtesy of Island Records, a division of Universal Music Operations Limited
Reference