Ad blocker interference detected!
Wikia is a free-to-use site that makes money from advertising. We have a modified experience for viewers using ad blockers

Wikia is not accessible if you've made further modifications. Remove the custom ad blocker rule(s) and the page will load as expected.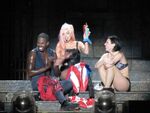 The Hipódromo de Asunción (sometimes known as Hipódromo de Tembetary or simply Jockey Club) is a horse racing track located in the neighborhood of Hipódromo in Asunción, Paraguay. It is owned by the Jockey Club del Paraguay. It was inaugurated on September 18, 1954 and is the largest in the country.
Part of The Born This Way Ball Tour:
Set list
Space (Intro)
Operation: Kill the Bitch (Interlude)
Birth (Interlude)
Emerging (Interlude)
Manifesto I (Interlude)
G.O.A.T Briefing (Interlude)
Mother G.O.A.T. Manifesto II (Interlude)
Part Of Your World (from The Little Mermaid) (Acapella)
Hair (Acoustic)
Yoü and I (Acoustic)
References
Edit