i-D is a British magazine dedicated to fashion, music, art and youth culture. i-D was founded by designer and former Vogue art director Terry Jones in 1980.
The 30th Birthday Issue (No. 308, Pre-Fall, 2010)
Edit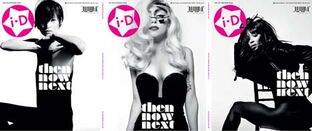 For its 30th anniversary this August, the now venerable,
i-D
magazine, has released three birthday editions. The collectible issues with staggered release dates are titled Then (Pre-Fall), Now (Fall) and Next (Winter) with Kate Moss, Naomi Campbell and
Lady Gaga
as cover stars.
INCOMPLETE
If "Bad Romance" isn't one of the best pop songs of all time, then we don't know what is. And if "Telephone" isn't the greatest video in the history of ever, then we're doubly clueless. Since meeting her two years ago, we've fallen totally and utterly heads over heels in love with Lady Gaga. She's eccentric, hilarious, incredible and completely bananas. Not since Michael, Madonna, and Prince have we such a global cultural force that transcends the pop charts to a place of sheer reverential iconic amazingness. She not only makes great music, but she makes life feel fun again. Who else would rock the Jean-Charles de Castelbajac Kermit the Frog cape on German tv with such panache? Or post Twitpics of herself holding a teacup emblazoned with the word 'Whore'? Gagz has injected our world with pomposity, a sense of the ludacris, and serious, serious megalolz.

i-D first heard about the future of pop after spotting the single "Just Dance online. We checked out her MySpace page and were dubious about the "Changing the world one sequin at a time" line, but we loved the single and Beautiful, Dirty, Rich, which was synced on the U.S.TV show "Dirty, Sexy, Money". So, when offered time with her in while in L.A. to interview the Game, we figured, why not? Since then, we've met Gagaloo a further three times in three cities over the last two years, including New York last month. People always ask, "Is she really like that", and the answer is "yes". From our first meeting to our last, she's witty, wry, super-intelligent and totally unpredictable. The best kind of pop star. Here's what happened when i-D hung out with the phenomenon that is Lady Gaga.

The W Hotel, Westwood, Los Angeles
4PM, 7 May, 2008

The girls sits upright on the sofa looking both austere and outrageous all at the same time. She has poker-straight blond hair, (in homage to Donatella Versace, she says later), custom-made smoking gloves that hold an unlit cigarette in a 1980s, Joan Collins inspired smoking holder, a Burberry bag, tighter than tight Tony Burch skirt and a figure-hugging homemade leather corset. On her right cheek is a had-painted Ziggy Stardust style flash of lightning. She looks like a dominatrix doing Britney Spears. Do you have some kind of photoshoot later? "Uh, no," she shrugs, looking puzzled at such a peculiar question, "This is just how I am all the time."

Two days later this same girl performs at gay and lesbian The Abbey, in West Hollywood. The scantily clad boys barely look up from checking each other out as she slinks onstage through plumes of smoke wearing a leotard and brandishing a "disco stick". Suddenly, angry synths blast through the speakers: "Duh-da-duh-da-duh-da-duh-da-da-da! RedOne! Gaaaga! Konvict!" The boys stop what they're doing and refocus toward the stage; it may only be a club hit at the time, but Just Dance is already huge on the gay scene. Audience fully engaged, the then 22 year-old performs Poker Face, LoveGame, and Beautiful, Dirty, Rich with an irreverent sense of humour, a large helping of campness and a whole lot of balls.

"It's the future of pop music," she pronounces back at The W Hotel, not a hint of a smile in sight, all serious again. Even though no one knew of her back then, "I already feel famous," she announces when it's wondered if she called her album The Fame simply because she craved celebrity. "It's something that I'm trying to say with my music; I want to give people the self-confidence and the sense of inner fame that I feel without being pummeled by the paparazzi as I walk down the street. I'm trying to do something interesting in a way that's easy for people to understand."
She appears totally in character, the Warholian vision of everyone and their 15 minutes. Gaga has decided she's famous, and whether anyone else knows it or not, she is. She's so into being gaga that during the i-D's first meeting, she refuses to reveal her name. "I don't give it out. 'Gaga' was the journey to myself. I found her and then I found me and I think that's how it is with any great artist; to morph and change. Anyway, when I make love, they say Gaga," she insists with a faux-coy grin.

It's during this first interview, before she's pummeled by the paparazzi for real, that Gaga breaks down the journey from Stefani Joanne Angelina Germanotta - as we'll later find out is her real name - to the incredible being we see before us today. "For many years, I was trying to steer away from this part of myself," she says, explaining that she went to a privileged private school, Convent of the Sacred Heart, in the Upper East Side of Manhattan. A classically trained pianist, her fellow students included the likes of Paris and Nicki Hilton. "It was uniforms and nuns and having to be a certain way, so I totally suppressed this part of myself." Though her parents, Cynthia and Joe, were affluent , she felt out of place among the blonde hair and manicured nails of the socialite scene. "I never saw girls for more than 10 seconds down the hallways. I was the arty girl, the theatre chick. I dressed differently and I came from a different social class than the other girls. But being around that gave me some artistic ideas," she points out. "Taking something as ridiculous as self-proclaimed fame, where you're simply famous you have money or your father is famous... I took that idea and found something luminous in it. What about that is interesting? It's not about the cameras or paparazzi or the media and the magazines. It's more like Andy Warhol: we decide what's great, and if the ideas are powerful enough, we can convince the world that it's great."

In the early days, after graduating from NYU in Art, she headed to the Lower East Side and found a family of like-minded creative's, including hard rock DJ Lady Starlight and future members of the Haus of Gaga. "Everyone is under the age of 26 and we do everything together," she insists blithely. Her father was unsurprisingly shocked when his daughter ran off to downtown dice bars to dabble in drugs and appear in burlesque show with drag queens and go-go dancers. "He couldn't look at me for a few months," she admitted of her early experimentations. "I was in leather thongs, so it was hard for him - he just didn't understand. But my parents saw me getting better and now my father cries when he sees me perform." The drugs disappeared around the same time as her act began to take serious shape. "I had a very scary experience one night and thought I might die. I woke the fuck up. I decided it was more important to become a centred, critical thinker.that was more powerful than the drug itself."
Refining her act, she signed to Def Jam at age of 19, but was dropped shortly after. A shrug, "It just wasn't for them." Spotted a couple years later by music executive Vincent Herbert, she was signed to Interscope records in January 2008. Impressed by her ear for melody and talent for a topline, she quickly began writing for Akon's Konvict label, as well as for Fergalicious, the Pussycat Dolls, Britney Spears, and New Kids on the Block. "Ohmygod please, I can't breathe. Donnie is like... OHMYGOD!"

Her own music began to take a different form; part Italo-house, part club-pop, she wrote most of the album between January and April, unwittingly crafting several smash hit singles including Paparazzi, Eh, Eh (Nothing Else I can Say) and Poker Face (Bad Romance and Telephone would come later). Her first single, Just Dance was written, she says, "Very quickly. They say hit songs should take minutes to write; and it did."
Today, in a bland suite at the W, this curious newcomer named everything from A Clockwork Orange to Donatella Versace and Helmut Lang, Warhol, David Bowie and Freddie Mercury as inspirations. After 45 minutes in her company, i-D has no idea if she's putting on a act of calculated eccentricity, or is totally genuine. We're also not sure whether she's about to be the biggest thing in the history of the world ever, or if she'll sink without trace, another of the hordes of hopefuls who get signed each year, but never quite make it. "I want to be the greatest artist of the digital era and show that we can fight downloading with an artist that is through and through about everything that the fan wants to eat, taste, lick and touch." Her final words that day followed, "People think I'm really underground, but I just think I'm me; I'm music, fashion, art, film, and technology abd I'm bringing all of those worlds together. I think the way I'm doing it is particularly groundbreaking, I don't think it's been done before. there are figures in history that have combined fashion and music and technology, like David Bowie, Madonna and Prince, but I'm going to do it in a new way."
Mirage Hotel, Las Vegas
1.15 AM, 8 December, 2008
Photoshoot by Nick Knight
The Exhibitionist Issue (No. 312, Spring, 2011)
Edit
Photoshoot by Mariano Vivanco
The Hedonist Issue (No. 313, Summer, 2011)
Edit
Photoshoot by Wolfgang Tillmans
Ad blocker interference detected!
Wikia is a free-to-use site that makes money from advertising. We have a modified experience for viewers using ad blockers

Wikia is not accessible if you've made further modifications. Remove the custom ad blocker rule(s) and the page will load as expected.