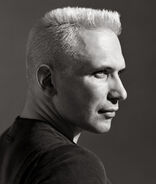 Jean Paul Gaultier (French: [ʒɑ̃ pɔl ɡotje]; born 24 April 1952 in Arcueil, Val-de-Marne, France) is a French Haute Couture and Prêt-à-Porter fashion designer. Gaultier was the creative director of Hermès from 2003 to 2010. In the past, he has hosted the television series Eurotrash.
Gaga by Gaultier
Edit
For more information, see this page.
Gaga by Gaultier is an interview between Lady Gaga and fashion designer, Jean Paul Gaultier, that was filmed at the House of Gaultier in Paris, France, on May 10, 2011. It was produced by Dak Tirak Productions and delves into Gaga's fashion choices, music, and personal life. The interview was released on June 13, 2011.
Accessories
Edit
Mod. 56-8171 Col. Silver
Edit
Made in the 1990s.
Mod. 56-0174 Col. Silver
Edit
Mod. 56-9272 Col. Tortoise
Edit
Made in the 1980s.
Ready-to-wear (RTW) Collections
Edit
Spring/Summer 1999
Edit
Fall/Winter 2008
Edit
Fall/Winter 2009
Edit
Spring/Summer 2010
Edit
Haute Couture (HC) Collections
Edit
Fall/Winter 2008
Edit
Fall/Winter 2009
Edit
Spring/Summer 2011
Edit
Fall/Winter 2011
Edit
Fall 2013
Edit
Spring 2014
Edit
Fall/Winter 2014
Edit
Fall/Winter 2015-2016
Edit
JPG for La Perla Fall/Winter 2012Edit
Unknown Collections
Edit
Dress
Bodysuit
Trench coat
Reference
Edit