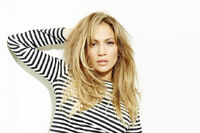 Jennifer Lopez
, also known as
J. Lo
, is an American recording artist, actress, record producer, dancer, fashion designer and television personality.
In 2011, Lady Gaga collaborated with Lopez and wrote two songs for Jennifer's fourth studio album Love?. The two songs are called "Invading My Mind" and "Hypnotico", both produced by RedOne.
Lopez was featured in an interview for the April, 2011 issue of Rolling Stone. She spoke to Rolling Stone about Gaga's songwriting credits on her album, and her admiration for her talents.
Love? features two songwriting credits by Lady Gaga. How did that come about?
"Lady Gaga did work on some of it, but we didn't work together face to face. [Producer] RedOne brought her into the process, because they'd worked together a lot – it was kind of cool. She's a great songwriter: I don't just love her lyrics, but also her melodies."
Other