Jonas Åkerlund (born November 10, 1965) is a Swedish film and music video director, and drummer. He is best known for his stylish music videos, which are often mock forms of movie trailers and short films. His video for Madonna's song "Ray of Light" won a Grammy for Best Music Video, Short Form, and a record seven awards at 1998 MTV Video Music Awards, including the Video of the Year. He more recently directed the video for Maroon 5 and Christina Aguilera's 2011 single "Moves Like Jagger".
Åkerlund was a member of the Swedish black metal band Bathory from 1983 through 1984. He first found fame as main video director for Swedish pop act Roxette. In 1997 he directed the acclaimed video for The Prodigy's "Smack My Bitch Up", which sparked controversy due to its depiction of drug use, violence, and nudity. In 1998 he worked with Madonna for the song "Ray of Light", he has since worked with acts such as Lady Gaga, Metallica, Christina Aguilera, U2, Blink-182, P!nk, Rammstein, and Britney Spears. He directed the music video for the Smashing Pumpkins' single "Try, Try, Try", from which a short film Try was spawned. He also turned his hand to designer and photographer for the Roxette album Room Service in 2001. In 2002 his first full length movie, Spun debuted. He directed recent adverts for Swedish clothing retailer MQ and the re-imagining of the Devo song "Watch Us Work It" used in Dell Computers commercials.
He has become a long collaborator of pop singer Madonna having worked on such music videos as "Music", "American Life", which was pulled due to its graphic content and the Iraq War, and "Jump". He also directed her documentary film I'm Going to Tell You a Secret and her concert television special The Confessions Tour: Live from London.
Among his more recent works were the controversial pornographic music video for Rammstein's "Pussy", the video for the song "Telephone" by Lady Gaga featuring Beyoncé and "Hold It Against Me" by Britney Spears.
Works with Lady Gaga
Edit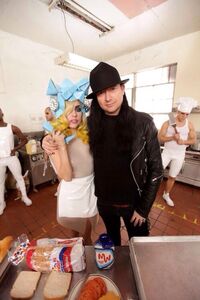 Ad blocker interference detected!
Wikia is a free-to-use site that makes money from advertising. We have a modified experience for viewers using ad blockers

Wikia is not accessible if you've made further modifications. Remove the custom ad blocker rule(s) and the page will load as expected.